Storisell proudly delivers animation to SUP46 – Startup People of Sweden and Swedish Startup Gala 2016.
Swedish Startup Gala
Swedish Startup Gala is an event arranged by SUP46. The gala highlights some of Sweden's most promising up-and-coming startups. The winners of "Startup Team of the Year" and "Startup Launch of the Year" will be announced. The peak of the event will be the announcement of a new inductee for Swedish Startup Hall of Fame, currently consisting of Daniel Ek (Spotify), Niklas Zennström (Skype) and Jane Walerud (Walerud Ventures).
About SUP46 – Startup People of Sweden
Startup Hub SUP46 was founded in 2013 to gather the startup community. Through the world-class ecosystem of investors, advisors and partners, members are offered a competitive advantage. Located in the heart of Stockholm, it is home to more than 50 startups and a natural meeting place for the startup community. Only the most exciting and innovative companies, mainly within Internet, mobile, media and gaming, are accepted as members.
At Storisell our goal was to animate an interactive keynote for the Swedish Startup Gala that would be easy to use and contain motion graphics. Thus, not just a regular fixed powerpoint presentation, but rather something that would work seamlessly throughout the event. The aim was therefore to design a all-in-one animated keynote that in a chronological way would present the nominated startups, along with Swedish Hall of Fame inductee of the year (2016).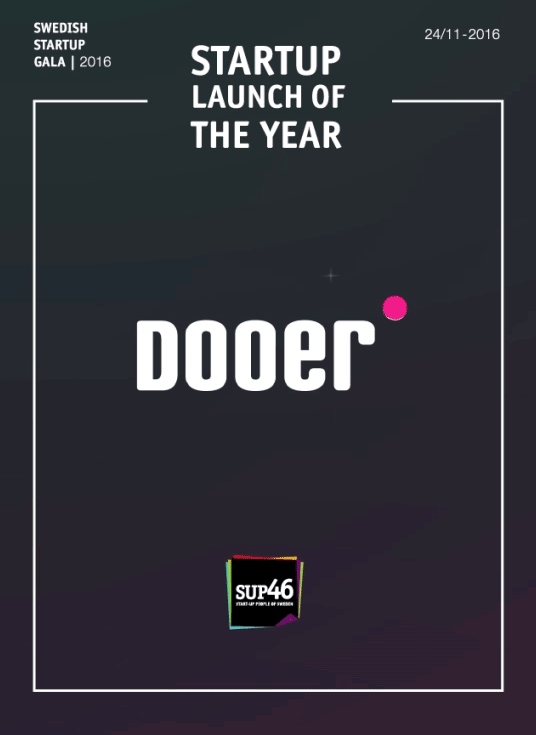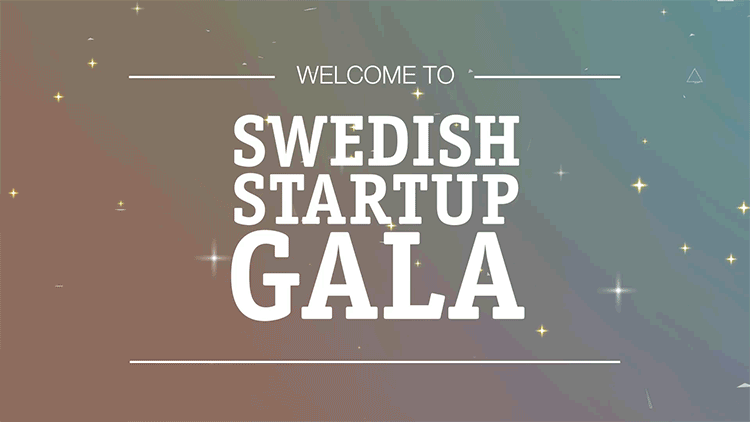 Over 60% of people are visual learners according to established NLP-studies. We process images 60,000 faster than plain text and over 90% of information transmitted to the brain is visual.
At Storisell our business model is high-volume video campaigns. We believe video can change the way companies attract new customers, investors and talent. By acknowledging that over 60% of people are visual learners, our mission goes beyond traditional marketing in order to help people understand the products and services they consume. We are video partners to our clients. What does that mean? By tailoring a one-stop framework agreement our customers can continuously order video campaigns based on needs within their sales and marketing organisation. Select your video campaign; premium explainer video, employer branding video, product review video or studio interview video. We make it easy for you to work with video. Welcome to Storisell.
At Storisell we focus on delivering an efficient pre-production and creative process with emphasis on presenting your company in less than 60 seconds – across all platforms.
We have packaged four types of video campaigns; premium explainer video, employer branding video, studio interview video, and studio interview video. Our customers use explainer videos when educating prospective buyers on websites, in sales meetings and on social media. Employer branding videos are commonly used by recruiters in job postings in order to showcase the proposed workplace for candidates. Product review videos are great for creating authentic content for products on social media – select up to ten test-subjects that will unbox, test and review a product in front of the camera. Studio interview videos are great for attaining lots of video without spending the entire marketing budget. Put employees, customers, and partners in front of a camera in a professional studio and create up to ten videos per production day. The average person retains only 10 percent of what they hear, but 50 percent of what they see. That's why our customers invest in video – and Storisell.
A creative process is unique and requires an effective process in order to save time, money and energy. At Storisell we have created a workshop model that conducts over 90% of preparatory work by mapping and selecting pre-production activities. This workshop model is an agile approach to the creative process. We schedule workshops for 3-to-4 hours. You will – in a fun and creative workshop – experience the creative process. A common problem in the creative process is decision-making, that often can be dragged out and delayed. In order to work proactively we have developed a workshop model that eliminates wasteful activities and focuses on measurable output that helps the creative process blossom. We run workshops 3-4 hours at a time. The normal workshop is booked 9:00-12:00 or 13:00-16:00. We are based in Sweden, but conduct workshops with companies across Scandinavia and Europe (EEA). Book a workshop with your new video partner.
START NEW PROJECT
Start a new video project. A project manager will review your video campaign and return with a proposal within 1-2 business days. Get a quote online.