Explainer videos

 for your company
Produce premium explainer videos for your company. We help our clients in producing explainer videos. We provide the entire process in-house from the workshop, manuscript writing, motion graphics, voice mastering and final proofing. To get started, you can get access to our price guide via the form or email us directly at hello@storisell.com.





Animation
Storisell delivers explainer videos to Connectel
Here we present our animated explainer videos produced for Connectel. This video uses graphics from the clients platform along with illustrations to visualise their offer and can be described as a typical SaaS explainer video. Our in-house team has produced the entire video from concept, storyboard, animation to final proofing. Everything is designed using the colors and guidelines in the client's brand book. Connectel is a cloud based customer service system helping their users create seamless customer experiences. We want to thank the team at Connectel for a good collaboration.
Animation
Storisell produces explainer videos to Filestar
In this case, we at Storisell can proudly present our animated explainer video for Filestar. Filestar is a file management software that lets you do anything to any file. This production can be categorised as a SaaS explainer video and our team at Storisell has produced everything from the concept, storyboarding, voice recording, animation to final proofing. Everything is designed from scratch based on the client's brand book. We thank the Filestar team for a good collaboration.
Animation
Storisell produces explainer videos to Medpeople
The Storisell team can here present our animated explainer video for the MedTech startup, Medpeople. Medpeople provides a platform for medical staff to manage their work and allows hospitals an efficient tool for staffing. Everything is produce in-house by our team using the brand book provided by the client. We want to thank Medpeople for several good productions that has been produced towards their European and Northern American markets.
Animation
Storisell produces explainer videos to Hosco
Storisell proudly delivers an explainer video to the worlds largest recruitment platform within hospitality. Hosco empowers the hospitality industry by connecting, inspiring, and providing opportunities to all its professionals around the world. In this production, Storisell España was responsible for the entire production from concept development in the workshop to proofing graphics with excellent cooperation with the client. We thank Hosco for a great project.
Animation
Storisell produces explainer videos to Hotjar
Here we are proud to present one of the animated explainer videos our team at Storisell has produced for Hotjar. Hotjar helps its users use heatmaps, recordings, and surveys and feedback to empathize with and understand thier customers. This production uses platform illustrations to visualise Hotjars offer. All the graphics have been produced in-house by our team at Storisell based on the customer's brand book. We want to thank Hotjar for another good video production together.
Animation
Storisell produces explainer videos to Hager
Hager is a leading supplier of systems, solutions and services in electrical installation. Hager has more than 11,500 employees, manufacturing in 22 locations around the world and customers in more than 120 countries. Storisell has produced several animated explainer videos for Hager. We want to thank the team at Hager for a good collaboration.
Animation / Film / Design
Storisell produces explainer videos to Minty
In this testimonial we present our explainer video production that we produced for Minty Digital. Everything in the animated video production is designed from the ground up by Storisell's in-house team. The style is a 2D motion graphics video that uses character animation to visualise the offer. We want to thank the team at Minty Digital for a good collaboration.
Prices
Animation
Storisell produces explainer videos to Ensure
Here we present the animated explainer video our team produced for Ensure. Everything in the animation is sketched, illustrated and designed from the ground up by Storisell's in-house team. The end-result is a business-to-business styled explainer video that presents the history of Ensure. We want to thank the team at Ensure for a good collaboration.
Animation / Film / Design / Web
XR Tech talks about their productions with Storisell
Our team at Storisell can in this testimonial proudly present our animated explainer video that we have produced for XR Tech. XR Tech is a game-tech startup that's offering a location 
based VR experience, available for everyone. This production was inspired by the gaming in the 90's and everything this animated explainer video is designed from scratch by our in-house team. We want to thank the team at XR Tech for a good collaboration in our productions.
Prices
Content Translation & Adaptation
Translate your content into new languages
We provide translation services so that our clients can translate their content into all the market languages they need. The aim is to create local content that feels native for every country. In this video, Sigge Fabiansson talks about how our team works with content translation.
Learn more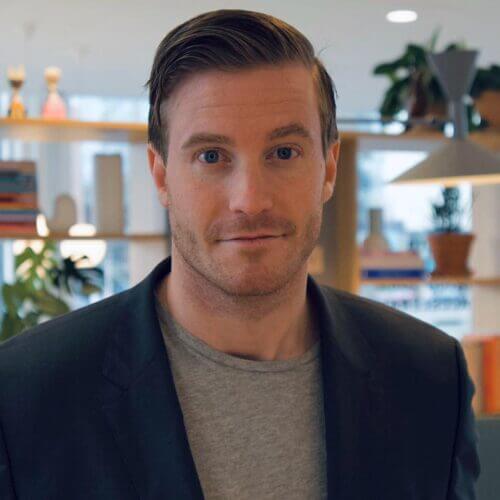 william@storisell.com
What can I expect from the production process?
The explainer video productions we deliver are premium ie. you get an in-house, professional, motion designer allocated to your project that produces premium explainer videos from paper and pen to final render, together with full user rights to the music and audio licenses. We start all projects with a workshop where we together for two hours write a script, produce a storyboard, select the voice actor, and decide the general concept for the production. We usually conduct the workshop via video calls. A revision round is always included upon delivery so that you have the opportunity to return with comments and correct them free of charge. When your deliverables are produced, we give you the opportunity to reuse the graphics that have been uniquely designed for the videos so that you can reuse the content on the website, social media, sales presentations, and other great ideas that you have. Want to translate the films into more languages? Then we provide a fixed rate per extra language and video.
How long should explainer videos be?
We recommend our client to create explainer videos that are within 90 seconds. That's doesn't mean that an explainer video can't be longer, but generally the attention span of viewers tends waiver beyond two minutes. There are exception through. If you're creating system explainers, used to showcase a system, software or application – typically for onboarding, the videos can generally be longer. For system explainers, our recommendation is up to two minutes. We recommend instead creating several shorter videos where you break down you message into more receptive bite-size pieces. That's why we offer shorter "segmented films" based on an already produced explainer video that can highlight a portion of your main video. We also produce a solution called "segmented manuscript" where you can segment your manuscript based on three different client personas, target markets or receivers in a shorter format. Talk to us and we'll explain more about segmenting your explainer video into several shorter videos.
Can I reuse the custom designs from the explainer video?
The designs in your explainer video production are hand drawn and illustrated from scratch which means you'll be able to reuse these designs in your marketing materials. That's why we give our clients access to our Icon Sheet. The Icon Sheet is a collection of all the designs we have created during your production so that you can reuse them in sales presentations, landing pages, and content you need for sales and marketing. Let us know if you need customized graphics and we will design them from scratch. You will be given more information about the Icon Sheet during your production.
How can we use explainer videos in different awareness levels?
According to this model, the aim is to gradually increase the awareness level of prospects and help as many as possible to reach the end of the funnel. Every awareness level tends to need customised content in order to be relevant to that prospect's current level of awareness. This is where awareness segmentation plays an important role in the way we produce content for our clients. We've found that normally, and without a lot of extra work, we can extend the amount of content that can be produced in one production by tailoring the manuscript to every awareness level rather than creating one campaign that aims at solving all your prospect's awareness needs. Here's an article on this topic that we wrote: www.storisell.com/academy/explainer-videos-awareness-levels/
On what markets does Storisell offer their services?
We have delivered productions in 15+ markets to date. We therefore offer our explainer video services on several markets and have an international team that speaks many nordic and southern European languages natively, along with Native American and British English. If you want help to find what services we provide on our website, you can email our team at hello@storisell.com and we'll help you as quickly as possible.